A Practice with Vision
By Alison Werner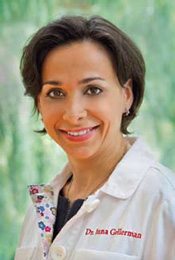 Inna Gellerman, DDS, started piecing together her vision for her own practice early in her career. While in the doctoral program at SUNY Stony Brook School of Dental Medicine, she realized a career in orthodontics would best combine her love of art and science with her interest in the aesthetic aspects of dental medicine. From that moment, she took advantage of every opportunity to get hands-on experience in the field to build her skills and to identify what worked for her and what would work best for her future patients.
After completing a specialty degree in orthodontics from SUNY Stony Brook in 2002, Gellerman joined Marc Lemchen's New York practice, an experience that really gave her insight into how she wanted to design her own future practice.
Practice Profile: Inna Gellerman, DDS
Practice Name: Gellerman Orthodontics
Location: Huntington, NY
Specialty: Orthodontics
Patients per day: 70
Starts per year: 400
Years in private practice: 9
Days in private practice per week: 3.5
Web site: drgellerman.com
"He just had such a great vision. He didn't cut corners. He had technology everywhere in the office. It was 2002, and he was incorporating it all when most practices didn't even have digital x-rays. The way he practiced opened my eyes and helped me to develop my own vision," Gellerman says.
It turned out the future wasn't too far off. In 2003, the opportunity arose for Gellerman to purchase a practice in Huntington, NY, a Long Island suburb.
She jumped at the chance and got to work taking what she had learned to build her own practice with her own vision for orthodontic care.
The practice Gellerman acquired was stuck in the past—from the décor to the philosophy. "The practice I bought was very outdated, very old. It was from the 1970s, and the previous owner hadn't really updated it. He practiced the old way. He kind of thought, 'What I learned back in school, I don't have to evolve; I don't have to learn anything else,' " she recalls.
Gellerman wanted her practice to be the exact opposite. "I didn't want to practice that way. I wanted to keep evolving," she says. The first step was to remodel and update the office space in the large two-story house, creating a warm waiting room and modern treatment spaces with seven chairs. Being located on a main road gives the practice a visibility that Gellerman wouldn't have had with an office collocated with other medical and dental practices in a commercial building. The location also offers Gellerman's practice the benefit of being a part of the community. "Part of my vision was to have a practice within the community, but also to be part of the community, to support the community," she says.
To connect with patients and their families, as well as the local community, outside of office hours, Gellerman and her staff host a number of activities throughout the year, including an annual fall festival and movie day. They are also organizing a community event called "Kiss Goodbye to Cancer," aimed at raising awareness about cancer among the community, and teaching the practice's younger patients about cancer prevention. Gellerman also takes the time to volunteer with The Junior Welfare League of Huntington and The Heckscher Museum of Art.
When it comes to patient care, a major component of Gellerman's vision for her practice is to always incorporate the technology that allows her to provide patients with the best and most efficient treatment. To that end, the practice is an elite provider of Invisalign and a premier provider of Incognito™. In addition, the practice uses the Damon System and is the only practice on Long Island that uses SureSmile®. Gellerman relies on Dolphin's 3D imaging and management software and the i-CAT 3D cone beam imaging system.
Recognizing that every year brings new technology—from new cameras and bracket systems to new ways of treating patients—Gellerman keeps her eyes and mind open to trying and testing new technology and techniques herself, then incorporating them into her practice when they will improve patient care.
"I don't rely on somebody telling me, 'This works, that doesn't.' I really decide for myself what does and doesn't work for my practice," she says.
Gellerman admits that staying on top of all the latest technology is a challenge, but she has found ways to manage the overload. For example, she and her staff of 14 design their annual office retreat around opportunities to learn about the latest technology. Most recently, they attended Ortho Camp 2012 in the Dominican Republic. In past years, they attended conferences on the SureSmile and Dolphin systems. Events like these allow them to both learn and bond as a team—while having a little fun. The rest of the year, Gellerman finds that the companies her practice works with are great at keeping her in the know about the latest developments.
"They try and stay on top of us. If something new comes out, they always tell us about the next course. We just had a course on SureSmile lingual training in [New York]," Gellerman says.
As Gellerman looks ahead, whether it be at the new technology she can bring into her practice or expansion plans, she holds fast to her vision: to provide the best care for her patients and the community while continually evolving to do so.
---