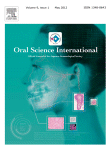 A new study, published in the journal Oral Sciences International, evaluated the effect of water contamination on the sheer bond strength (SBS) and adhesive remnant index (ARI) score of self-ligating brackets.
Researchers bonded one conventional bracket and three different self-ligating brackets onto 160 bovine permanent mandibular incisors, divided randomly onto 8 groups. For each type of bracket, 20 samples were bonded on dry enamel and 20 after water contamination. After 24 hours, the reseachers tested all specimens for SBS using an Instron Universal Testing Machine, and evaluated the ARI scores.
While the findings showed that all groups had clinically adequate SBSs, Quick brackets bonded onto dry enamel showed significantly higher SBSs than all other groups tested. The lowest shear strength values were recorded for Step, Quick, and Damon 3MX brackets bonded onto contaminated enamel and for Damon 3MX onto dry enamel. Frequency distribution of ARI scores showed a prevalence of ARI "2″ and "3″ for all the groups tested.