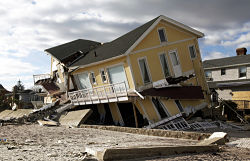 Credit: Leonard Zhukovsky / Shutterstock.com TP Orthodontics Inc, La Porte, Ind, has contributed a portion of its sales from this year's annual Northeastern Society of Orthodontists (NESO) meeting in New York, November 8 to 11, 2012, to the American Red Cross Hurricane Sandy Relief Efforts.
Days before the annual meeting, TP Orthodontics was notified that their trade show display and marketing materials were destroyed at a local warehouse during the hurricane. While the company did not have its usual booth presence at the show, TP Orthodontics representatives used the opportunity to give back.
"Meeting attendees wanted to know what happened to our display and company representatives explained that it was damaged by the hurricane. They used these opportunities to let booth visitors know that a portion of all company sales from the show were going to the American Red Cross Relief Efforts," said Sandra Hoefer, vice president of global marketing for TP Orthodontics. "We received a very positive response, and consider the NESO meeting a success."
For more information about this and other orthodontic companies, visit our Market Guide.