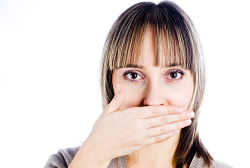 More than one-third of American adults are unhappy with their smile, according to a new study commissioned by the American Association of Orthodontists (AAO) and conducted by Wakefield Research.
Of Americans who are unhappy with the appearance of their teeth, 36% believe they would have a better social life if they had better teeth. This may be especially true among young adults, as 48% of Americans ages 18 to 24 have untagged a picture of themselves on Facebook because they didn't like their smile.
The study found that bad teeth also represented the biggest dating turn-off among men and women. According to the study, 77% of women think crooked teeth are worse than a receding hairline in a potential love interest. Moreover, 22% of Americans who are unhappy with their smile think that better teeth would lead to a better love live.
On a professional level, 78% of Americans perceive adults with crooked teeth to be unsuccessful. And 14% of those unhappy with their teeth felt that they might be missing out on a better job.
"Professional orthodontic treatments have come a long way in recent years, with innovative options such as clear aligner trays, lingual braces, and ceramic braces," said John F. Buzzatto, DMD, MDS, president of the AAO. "Healthy teeth can be moved at any age and it's encouraging that two-thirds of Americans think they are never too old for treatment."
The survey queried 1,000 nationally representative US adults, ages 18 and older between September 21 and September 25, 2012, with a margin of error of +/- 3.1 percentage points.