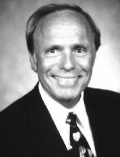 Donald Dennis McKee, DDS, died November 4, 2012, in La Jolla, Calif, after suffering from Parkinson's disease. McKee had a private orthodontic practice in San Diego and La Mesa, Calif.
After serving in the US Army as a dental technician, McKee completed a dental degree at St. Louis University in 1964 and opened a general dental practice in Long Beach, Calif. A decade later, he obtained an orthodontics degree from the University of California at San Francisco and moved to San Diego where he practiced for over 30 years.
McKee was a former president of the San Diego Children's Dental Health Association.