by Lori Sichtermann
Ravindra Nanda, BDS, MDS, PhD, has traveled the world learning and teaching orthodontics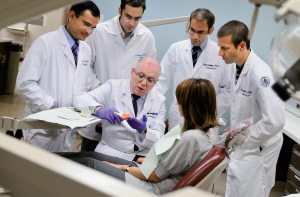 Photography by Al Ferreira.
Ravindra Nanda, BDS, MDS, PhD, is a gatherer of information. Whether tending to his orchids or his collection of stamps from India and the United States dated between the 1850s and the 1860s, Nanda takes a calculated approach to learning from the people and things around him. He has an unyielding sense of curiosity that has provided for a successful career as a professor, mentor, and orthodontist.
For more than 40 years, Nanda has been teaching, practicing, lecturing in, and writing about the field of orthodontics. As the current Head of the Department of Craniofacial Sciences and Chair of the Division of Orthodontics at the University of Connecticut (UConn), Nanda considers himself a consummate learner and educator.
"As an educator, you have to be current and futuristic," Nanda explains. "You have to provide the best possible information, whether you're giving it to your residents or to 1,000 people attending an orthodontic conference."
Nanda has spent 4 decades gathering information to pass along to students and fellow orthodontists. He's worked with legends in the profession, novices who are just starting out, and noted manufacturers to help develop innovative technology. The result of his journey in the orthodontic profession is a unique philosophy and an eloquence in sharing what he knows.
Many Countries, One Goal
In every aspect of his globe-trotting career, Nanda has applied a healthy mixture of creativity, critical thinking, and logic. He entered the orthodontic arena in 1960 as a student of dental surgery at King George's Medical College at Lucknow University in Lucknow, India. At that time, opportunities for aspiring orthodontists were limited. As Nanda explains, when he began dental school, there were only 13 programs in India. "Today, there are more than 260 dental schools throughout India," he adds. "That gives an idea of how important the profession has become in the last 51 years. And I was fortunate enough to have studied with some of the most legendary orthodontists at the time."
After earning a Bachelor of Dental Surgery and Masters of Dental Surgery in Orthodontics from King George's Medical College, Nanda enrolled at the University of Nymegen School of Dentistry in Nymegen, the Netherlands. Four years later, Nanda became a Doctor of Philosophy, as well as a Fellow in Orthodontics at the University of Nymegen.
In 1970 Nanda traveled to the United States to serve as an assistant professor in the department of orthodontics at Loyola University's School of Dental Medicine in Maywood, Ill. In 1972, he made his final move and joined the University of Connecticut as an assistant professor in the Department of Orthodontics.
Over the years, Nanda worked as an assistant professor, then as an associate professor, attending staff member, professor, acting Head, and finally Head of the Department of Craniofacial Sciences and Chair of the Division of Orthodontics.
Today, Nanda credits his successful career to his current students, past graduates, iconic predecessors, and former colleagues. "At every institution where I was a student or a professor, I came under the influence of different orthodontic philosophies," he says. "In Holland, I worked with Dr Brodie and Professor van der Linden. I learned some orthodontic techniques that were very contemporary for their time."
When he arrived in Storrs, Conn, in 1972, UConn's Department of Orthodontics was headed by two revolutionary orthodontists—Charles J. Burstone, DDS, MS, and Sam Weinstein, DDS, MS—who were leaders in the field of biomechanics. Nanda relished the opportunity to teach and practice with the two legendary orthodontists.
"They created the program at UConn, which was—in my eyes—one of the top-notch programs in the world," he explains. "Because of the unique philosophy at the University of Connecticut's orthodontics program, I knew I wanted to stay here. I grew my career and took over as Chair in 1992."
A Proficient Program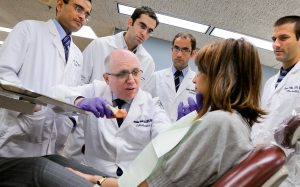 The UConn program has been responsible for the development of a number of products.
The UConn orthodontics program has become a leader in biomechanics, its clinical application in orthodontics, and basic science research. "We're known all over the world for our accomplishments in these areas," Nanda says.
The program also is known for being a bit more avant-garde than others in the country. Since its inception in 1970, the UConn orthodontic program has required an intense, 3-year commitment. When the program was established, the norm was to offer a 2-year curriculum. "For us, we could not teach orthodontics in an efficient manner in a 2-year program," Nanda explains. "You often cannot finish cases in a 2-year period."
As Nanda explains, the norm has shifted dramatically over the years. Today, orthodontic programs throughout the country have taken UConn's lead and have expanded their programs to 3 years. "A 3-year program allows students to perform more in-depth research, which trains them to critically evaluate treated patients and orthodontic literature," Nanda says.
The UConn orthodontic program has been ahead of the curve from its inception. At the root of what makes the program revolutionary is its unique operational philosophy, which was established by the founding Heads, Burstone and Weinstein. "The way we look at it, there is no cookbook approach to treating a patient," Nanda explains. "Every patient is an individual who demands his or her own treatment and mechanics plan."
Aspiring orthodontists enrolled in the UConn orthodontic program are thoroughly educated regarding mechanics and appliance systems. "We feel that without these systems, you cannot do successful orthodontics," Nanda says. "Our definition of successful orthodontics is not only putting teeth together in nice position, but rather putting teeth together in a very harmonious way. We train our residents to consider the bony tissue, the soft tissue and function, so as to give patients good aesthetics and a pleasing smile."
PRACTICE PROFILE
---
DEPARTMENT OF ORTHODONTICS
Location: School of Dental Medicine,
University of Connecticut, Farmington
Specialty: Orthodontics
Patients per week: 70
Starts per year: 100+
Nanda's days in intramural practice per week: 1
Web site: orthodontics.uchc.edu
The UConn program is also innovative in its research and clinical applications. As Nanda explains, throughout the last 41 years, the department has been responsible for the development of a number of orthodontic technologies, including Beta Titanium wires, heat-activated memory alloys, and Carriere brackets. The department has also helped improve the design of various appliances.
Much of the orthodontic technology being developed at UConn is created in reaction to where Nanda and his faculty see the future of orthodontics. And, as he explains, the future lies in speed and efficiency. "The products we develop and the techniques that we perfect all are focused on reducing the time of orthodontics," he says. "For example, in our department, we're doing a study on the role of vibration in reducing treatment time."
According to Nanda, the UConn orthodontic program also is studying the results of alternative methods, such as using small surgical cuts to speed up orthodontic treatment. As he explains, Flavio Uribe, DDS, MDS, the residency program director at UConn, has taken the lead in the area of "surgery first" innovative mechanics to treat multidisciplinary patients using TADs.
"More and more emphasis is on developing appliances and developing modalities that enhance the speed of treatment," Nanda says. "And, at the same time, we are developing ways to do better orthodontics."
Goals for Graduates
The main objective at UConn is to produce talented and profoundly educated orthodontists. With an expertise in the application of biomechanics in clinical practice, Nanda enjoys the ability to teach students the techniques he learned in his 51 years in the profession. "I'm very fortunate because we come in contact with young dentists and we train them to become very successful orthodontists," he adds.
A substantial number of Nanda's graduates have also been successful as academics. Some orthodontists trained at UConn have become leaders in the field, while others are Deans of dental schools (overseeing orthodontic departments) or hold other leadership positions in academia.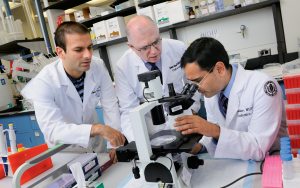 "The products we develop and the techniques that we perfect all are focused on reducing the time of orthodontics," Nanda says.
Much of the success of the UConn orthodontic alumni can be attributed to the hands-on experience they received while enrolled in the program. As Nanda explains, the UConn intramural practice is a robust operation where faculty and residents both practice.
"Our first-year residents start 55 to 70 new patients a year," he says. "I'm fortunate to have six full-time orthodontic faculty members, which allows ample time for faculty to teach residents, supervise resident patients, and conduct research."
As the Head of the program, Nanda has the pleasure of leading an efficient (albeit busy) intramural practice in addition to teaching and performing clinical research. His unique palette of expertise makes him a desirable resource for university orthodontic programs and private practices throughout the world.
"Each year, I get numerous invitations to speak on three distinct areas of orthodontics: biomechanic applications, how to run a busy orthodontic practice, and how we can use more efficient orthodontic appliances," Nanda says. "I love traveling. It gives me an idea about what is going on in the rest of the world. And I get the opportunity to learn how orthodontics is going to be practiced in the future."
And, as Nanda explains, he's witnessed numerous changes in his profession. "Teaching has really changed over time. Our diagnostic techniques have become better, and we have more resources," he says. "The specialty has advanced, and educators have done a wonderful job adapting."
According to Nanda, teaching has become more goal-oriented in terms of the curriculum. "The American Board of Orthodontics has helped wonderfully in that they've modified the exam process in such a way that allows the young people who graduate from orthodontic programs to be board-certified," he explains.
The new curriculum guidelines, which were enacted several years ago, have helped to foster a greater sense of accomplishment for hard-working residents in orthodontic programs throughout the country. "The new standards let graduates know that what we are teaching is clinical and didactic," Nanda says. "It's organized now so that our residents can get out, pass the boards, and see patients. That's been a very positive development. In the years to come, I look for more of these types of advancements in the profession."
---
Lori Sichtermann is a contributing writer for Orthodontic Products. For more information, contact
Learning From Siblings
Ravindra Nanda, BDS, MDS, PhD, was influenced to join his profession by his two older brothers, both of whom had successful careers in orthodontics. "They were very successful and enjoyed what they did for a living," Nanda recalls. "I had good role models in front of me."
As Nanda explains, his first brother, Ram, who is 16 years his senior, moved to the United States in 1950 to pursue a career in orthodontic education, research, and clinical practice. Ram found success in the States, but after several years, returned to India for a few years. The timing of his return to India perfectly coincided with Nanda's entrance into dental school at King George's Medical College at Lucknow University.
"My brother was offered a position teaching orthodontics at my school, so I was able to study under him," Nanda explains. "I earned a Master's degree while still studying under my brother, which was a wonderful experience."
Nanda's second brother, Surender, also practiced as an orthodontist. He, too, moved to the United States, where he was successful as an educator and researcher at the University of Michigan.
The guidance and support from his two older brothers, who were also colleagues in the profession, equipped Nanda well for professional growth. "I learned different techniques and developed my own concepts so that I ended up developing my own philosophy of orthodontics," he says. "I've kept these philosophies over the years and teach them here at the University of Connecticut."
Nanda's professional philosophies call for students to have (and retain) an open-minded approach to orthodontics. As he explains, there are endless possibilities in terms of treatments for a patient. "Every patient is different, so as an orthodontist, you have to consider the individual and how to customize treatment," Nanda says. "We teach our students to be critical thinkers as well as great orthodontists."
Nanda has demonstrated his abilities as a critical thinker by playing an active role in clinical research and translational basic science research at UConn. "Research provides a way to explore new possibilities, such as how to shorten orthodontic treatment or how to administer orthodontic forces without damaging tissues," he explains. "At the same time, I'm very active in publishing textbooks and collaborating with my faculty and colleagues from around the world in publishing articles in well-respected journals."
Over the past several years, Nanda has written and published five textbooks to aid the orthodontic profession, and he has no intent on calling it quits anytime soon. "I'm in the process of writing another textbook in collaboration with Dr Uribe," he says. "This particular book is scheduled to be published next year by Elsevier, Mosby. We're very excited about this accomplishment." —LS