by Lori Sichtermann
After 40 years of clinical and academic experience, Elliott Moskowitz, DDS, MSD, CDE, is still intrigued by the challenges of treating young children
PHOTOGRAPHY BY SALEM KRIEGER www.salemkrieger.com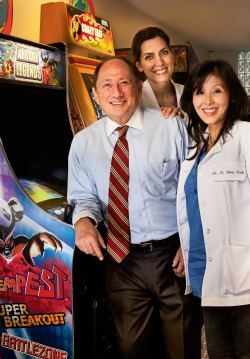 Moskowitz runs each of his practices collaboratively. "We try to conference all new cases," he says.
For Elliott Moskowitz, DDS, MSD, CDE, the phrase "kid's stuff" does not imply simplicity. "Without question, the most intriguing and challenging area of the orthodontic specialty is the treatment of young children," he explains. "It's allowed me greater insight into the complexities of individual patient growth and development and their respective malocclusions. And, the subject is not without its difficulties and controversies, particularly relating to the precise and most effective timing of early orthodontic treatment."
Moskowitz credits his father, Hyman Moskowitz, DDS, as being his inspiration for becoming an orthodontist. A 1937 graduate of New York University's College of Dentistry (NYUCD), the senior Moskowitz was a skilled orthodontist and an avid learner—two personality traits that were passed along to his son after years of guidance.
"My father's library had wonderful textbooks dating back to the latter part of the 19th century and early 20th century," Moskowitz recalls. "There were also numerous journals such as Dental Cosmos and other early orthodontic publications (Calvin Case, Edward Angle, Martin Dewey, Robert Strang, et al) in this library that fascinated me."
In the 40 years since Moskowitz began practicing orthodontics, he has worked in private practice, hospital dental programs, and university institutions. He has served as an editor for orthodontic and dental journals; he has held teaching and guest lecturer positions across the United States and abroad. He's a Diplomate of the American Board of Orthodontics and is the current president of the American Association of Dental Editors.
However, it is the work Moskowitz has done with children that he considers his main focus at this point in his career. For decades he has worked closely with pediatric dentists, advocating for interactivity between the two specialties as well as the problems and solutions presented in early treatment.
Educational Influences
PRACTICE PROFILE:
---
Elliott Moskowitz, DDS, MSD, CDE
Practice name: East Side Orthodontics
Location: Upper East Side (UES) and Greenwich Village (GV), New York City
Office square footage: UES 2,500, GV 1,200
Number of chairs: UES 5, GV 4
Years in practice: 40
Education: DDS from NYUCD, MSD from NYUCD PG
Average patients per day: 60-80
Starts per year: 500
Days worked per week: 5 to 6
Top five products used: Dolphin Imaging, Reliance products, Perfect Finish Orthodontic Laboratory, Dentsply GAC brackets, Oak Tree Storage and backup
Web site: N/A
Moskowitz's resumÉ is an interesting read. He graduated from NYUCD with a DDS. After earning his degree, Moskowitz went on to forge his own path in the profession by taking a year-long general practice residency at the Catholic Medical Center in New York City. Once the residency was complete, he returned to NYUCD in the postgraduate division of the department of orthodontics and enrolled in the school's Masters of Science program for dentistry.
"This was a unique part of my orthodontic education that entailed didactic and clinical learning, as well as research and teaching of pre-doctoral students," Moskowitz explains. "It was the most enjoyable years in dentistry for me. I realized how much there was to learn in orthodontics, and I was surrounded by very dedicated and highly proficient faculty members who served as important mentors to me."
After earning his MSD from NYUCD, he served as an attending at Brooklyn's Interfaith Medical Center (IMC) in the department of dentistry. While there, Moskowitz had daily interaction with general practice and pediatric dentistry residents, and came to see a disconnect between the orthodontic and pediatric dental specialties.
"In my association with the department of orthodontics at IMC, I was assigned to the teaching of general practice and pediatric dental residents," Moskowitz explains. "Together with Mark Hochberg [DMD], then director of the pediatric dental residency program, we recognized the great disconnect between our specialties."
To ease the communication gap between the dental and orthodontic fields, Moskowitz and Hochberg developed specific protocols that led to more orthodontic/pediatric dental interactivity. As Moskowitz explains, these protocols included better communication, sharing of diagnostic records, and exchanging information about individual patient management concerns.
"Many years later, we carried those concepts into private practice, which greatly emphasized mutual support of both the pediatric dentist and orthodontist, particularly when both clinicians are treating the same patient at the same time," he adds.
Moskowitz spent 12 years at the IMC, and during this time he realized the challenge of identifying patients who might benefit from earlier, rather than later, orthodontic treatment versus those who would best be treated after the eruption of additional permanent teeth.
Moskowitz also noted that in some cases, specific strategies and more effective management techniques were needed for patients and their parents. "There's a lot of work to be done in this area with respect to assessing our anecdotal experience and our current clinical research capabilities and interpretations," he explains. "And, this is no easy task. I am sure that other orthodontists who treat young children in the mixed dentition feel the same way."
A Collaborative Practice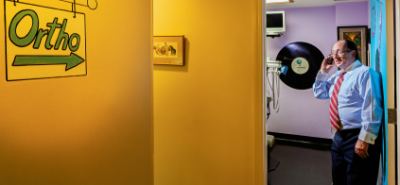 Moskowitz works closely with pediatric dentists and advocates for interactivity between the two specialties.
For the majority of his 40 years in the orthodontic profession, Moskowitz has applied his experiences and talents to early orthodontic treatment. That work continues at East Side Orthodontics. The Manhattan-based group of orthodontists includes two locations: one in Greenwich Village and one on the Upper East Side. The Upper East Side office opened 15 years ago, while the Greenwich Village office is a continuation of Moskowitz's father's original practice, which was started in 1937. "In this office, we have the opportunity to be treating the third generation in some families," he notes.
At both offices, four orthodontists work cohesively: Moskowitz; M. Bina Park, DDS, MS; Ronniette Garcia, DDS; and Eleni Michailidis, DDS, MS, MPH. "We try to conference all new cases so that maximum input and insight are gained in formulating treatment plans for individual patients," Moskowitz explains. "The four of us handily provide coverage to each office, with three of us often present in one office site."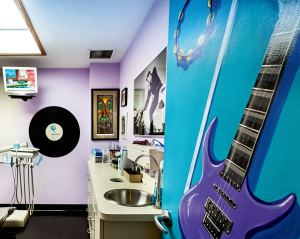 The colorful and fun dÉcor of East Side Orthodontics appeals to young patients.
Moskowitz serves as senior orthodontic partner, but each doctor has a particular expertise or interest that benefits all patients and treatment outcomes. "We respect each other's unique abilities and fully utilize them for the benefit of our patients," Moskowitz says.
According to Moskowitz, collaborating with three other orthodontists in the same practice is an ideal setting for the challenges that arise with early orthodontic treatment. "Management of young patients and their parents differs from the treatment of older children," he explains. "This fact alone has created quite a learning curve in case selection, treatment goals, and most importantly, parental communication." And, as Moskowitz further explains, this has been a tremendous experience in patience and understanding.
Challenging the Rules
Even defining the term "early treatment" presents some controversy. "I would define it as 'timely treatment for the growing child,' " Moskowitz adds. "This relieves all of us from pigeonholing treatment in either the primary, mixed, or even permanent dentition."
Moskowitz also says that the fourth dimension—time—is frequently not factored into diagnostic decisions when treating young patients. "Our initial examinations of very young patients, as well as the diagnostic records that we obtain, are no more than a snapshot of a dynamically growing and changing individual," he says. "And this often-overlooked element of time may cause the orthodontist to make irreversible treatment decisions without real data or information about individual patients.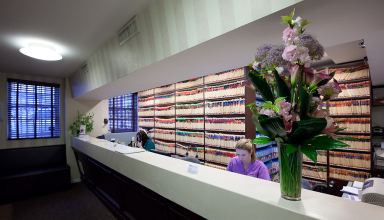 "That is not to say there isn't a large body of evidence concerning dentofacial growth and development. However, much of this information describes central tendencies and averages, and there is no guarantee that a patient won't grow outside of the limits, either favorably or unfavorably."
With growing patients, Moskowitz and his colleagues may need to implement alternative treatment strategies or midtreatment changes. All of this must be intelligently articulated (and taken down in records) when communicating with young patients and their parents. "This is especially true in a situation where permanent teeth extractions are needed after some initial Phase I nonextraction treatment might have been completed," he adds.
The topic of extraction versus nonextraction treatment is another area of intense discussion within the orthodontic specialty about which Moskowitz feels strongly. "There has been a wide swing toward nonextraction treatment over the years, and I think that this fact needs to be seriously reassessed," he notes. "After 40 years of critically assessing my own treatment outcomes, the treatment results of other colleagues in the community, the evidence presented in our orthodontic peer-reviewed publications, as well as the time-honored observations of scholars and/or master clinicians, it is apparent that there are limits in the ability of orthodontists to reposition teeth in certain cases without removing permanent teeth if aesthetics, function, and stability—the three important orthodontic goals—are to be achieved.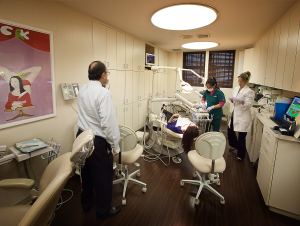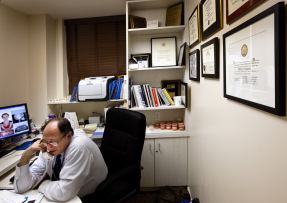 Moskowitz believes that the more than century-old debate of extraction versus nonextraction treatment has become complicated over the last several years because of medico-legal issues and information that has been disseminated to the public that might appeal to parental emotions instead of a real understanding of the limitations of nonextraction orthodontic treatment.
"I have often said that the decision to extract or not extract should be a strategy and not a goal," he adds. "If you make nonextraction treatment a goal rather than a strategy, you will probably end up treating far too many cases nonextraction when you should have considered extractions in a certain percentage of cases."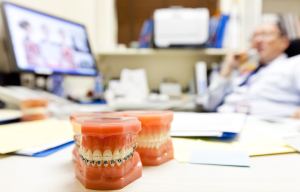 The real challenge, Moskowitz says, is to determine which individual patients might benefit from extractions and which ones would not; and to have the courage to recommend extractions midtreatment when initial nonextraction treatment is not working out well. "Most orthodontic retreatments were nonextraction cases initially and not the other way around," he adds. "However, we need to avoid the over-reliance on generalizations when we treat individual patients."
For Moskowitz, orthodontics remains an exceedingly challenging specialty in which very few things can be taken for granted. "We've all learned the 'rules' of orthodontic diagnosis and treatment, but the 'exceptions' to these rules takes years to learn, and truly make all the difference in producing consistent treatment outcomes," he says. "Nowhere is this more apparent than in the extraction/nonextraction decisions."
Changes and Improvements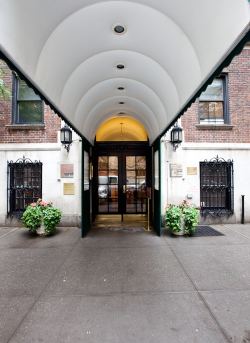 It has been more than 4 decades since Moskowitz started his lifelong education in the orthodontic profession. In that time, he's seen myriad developments that have paved the way for progress in the field. However, he says that the last several years have brought an onslaught of change that will alter the future of orthodontics.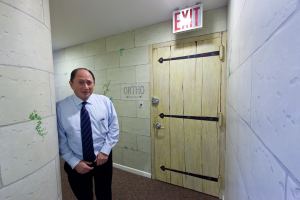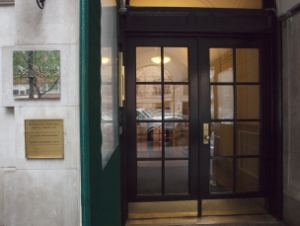 "Technological advances in orthodontics have radically changed the way we practice," he notes. "Digital records, 3D imaging, paperless offices, better avenues of communications, even new types of wires and brackets, have dramatically changed the way we run our practices."
One of the most prevalent changes that has taken place lately in the profession has nothing to do with brackets, wires, or high-tech equipment. In fact, he believes the change is related to the orthodontist/patient relationship. "It's changed significantly," Moskowitz says. "The exchange between the two parties has become more interactive and empowering rather than paternalistic, as it had been for years prior."
For more than 40 years, Moskowitz has maintained a sustainable career and practice by building important relationships with patients, their parents, and, most importantly, with colleagues—again proving to be ahead of the proverbial curve. "My father taught me never to be envious of other orthodontists, but to emulate them instead," he remembers. "That advice has helped me stay in touch with the limitations—including my own—of what we actually know about many concepts in orthodontics. And as a result, I am passionate about continued learning and individual scholarship, and I value my close friendships with other orthodontic colleagues. We all serve as each other's mentors."
---
Lori Sichtermann is a contributing writer for Orthodontic Products. For more information, contact
A Dedicated Alum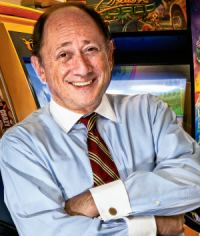 Elliott Moskowitz, DDS, MSD, CDE, has a storied relationship with New York University College of Dentistry (NYUCD). The story starts with his father, Hyman Moskowitz, DDS, a 1937 graduate of the dental college. After obtaining his own DDS from NYUCD in 1972, Moskowitz had the desire to give back to his profession by way of part-time teaching. Eventually, the opportunity to teach at his alma mater arose, and Moskowitz eagerly seized it.
"For the last 20 years, I've taught in the department of orthodontics at New York University College of Dentistry," he explains. "I have also visited numerous orthodontic departments in the United States and abroad over the years as a guest lecturer or mock board examiner."
Today, Moskowitz serves as a full clinical professor in the department of orthodontics at NYUCD, and has recently joined The Consortium for Translational Orthodontic Research (CTOR), a research organization at NYUCD. CTOR was created several years ago by its co-founders, Mani Alikhani, DMD, MS, PhD, and Cristina Teixeira, DDS, MS, PhD, both respected basic scientists and clinical orthodontists. CTOR does basic research with the intent of "translating" such research into areas that might benefit and impact upon orthodontic patient care.
Moskowitz's role is to interface with basic scientists and pursue other areas of clinical research which are of interest to him. CTOR also provides an opportunity for orthodontic residents and Fellows to participate in the research process. According to Moskowitz, "It is one of the most exciting programs at NYUCD, and I am grateful to be a part of the CTOR team."
A long-term goal of CTOR is to establish orthodontic practice-based research networks that provide large samples of data from patient cases. "Samples of this magnitude would be impossible to generate from any one orthodontic practice or academic institution," Moskowitz explains. "This concept has been utilized in medicine for many years, which has resulted in useful treatment procedures and the development of numerous drugs."
After more than 2 decades of teaching at NYUCD, Moskowitz has demonstrated his gratitude to the school by making a generous financial donation to the university's fund-raising campaign. In fact, NYUCD recently announced that it is building a new and modern orthodontic facility and naming it the Elliott Moskowitz Orthodontic Wing. This facility will have up-to-date clinical, teaching, and research capabilities to enhance NYUCD's ability to offer quality orthodontic treatment to many children and adults who otherwise could not afford it.
"Since my predoctoral days at NYU, the department of orthodontics has encouraged, supported, and inspired me to continue to hone my clinical, research, academic, and teaching skills," Moskowitz explains. "There is not enough that I could do to give back to my alma mater in appreciation of what I have received."
Over the last 4 decades, Moskowitz has built on the foundation provided by NYUCD to create a successful career in orthodontics. His enthusiasm for the profession is deeply rooted in his alma mater, and he continues to extol the benefits of giving back, both in terms of knowledge and resources. "I hope that other orthodontic colleagues will recognize how important their respective postgraduate programs were to their own success, and support their institutions in a similar manner," he says. —LS