John F. Buzzatto, DMD, MDS, will advocate for orthodontists as health care providers and small business people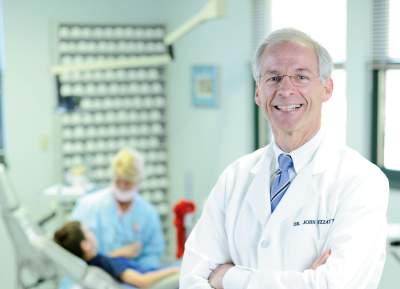 John F. Buzzatto, DMD, MDS
John F. Buzzatto DMD, MDS, is passionate about orthodontics. Having practiced in the profession for 31 years, he says that his excitement and enthusiasm for his work remain as strong today as in the days of his residency. "It doesn't seem like it's been that long ago, but I'm a lot closer to the end than the beginning," he says. "The time has passed quickly because I love what I do."
Although he is devoted to the profession, Buzzatto's path to becoming an orthodontist was quite serendipitous. The oldest of seven children, he explains that, while growing up, his family wasn't able to afford orthodontic treatment. As a result, Buzzatto didn't receive firsthand exposure to the profession.
Instead, a close family friend who practiced as a general surgeon planted the proverbial seed in Buzzatto's mind: consider medical or dental school. "That advice was in the back of my mind as I obtained my undergraduate degree at the University of Pittsburgh," Buzzatto says.
Engineering a Career
As an undergrad majoring in civil engineering, he had a chance encounter that helped alter his career path. "I was a wrestler at Pitt, so I worked out regularly in the weight room," he explains. "One day, there were a couple of dental school students working out as well, and we got to talking. They seemed like nice guys, and they were enthusiastic about what they were learning. Talking with them really heightened my interest about the profession. Meanwhile, I hadn't forgotten what our family friend had suggested to me years prior."
PRACTICE PROFILE
Practice Name: Soxman & Buzzatto
Location: Allison Park, Pa, and Bridgeville, Pa
Office square footage: Allison Park 2,500; Bridgeville 2,000
Number of chairs: Allison Park 7, Bridgeville 6
Years in Practice: 31
Education: University of Pittsburgh (undergraduate, dental and orthodontics)
Average Patients Per Day: 45 to 50 on a busy day
Starts per year: 125
Days worked per week: 4 to 4.5
Top five products used: nickel titanium wires, self-etching primers, ceramic brackets, prepasted direct bond brackets, and colored elastic ties (kids love them)
Web site: <ahref="http://soxman-buzzatto.com/" target="_blank">soxman-buzzatto.com
Soon thereafter, Buzzatto inquired about dental school, and, after meeting with the Dean of Admissions, he was admitted to the dental program. "Because I had majored in engineering, I had to take additional classes, such as organic chemistry and biology," he notes. "However, I quickly realized that my engineering education was priceless as I worked through the dental program."
As Buzzatto explains, all forces in nature, including engineering and orthodontics, can be represented by free-body diagrams, which indicate forces applied to a body. If these forces are great enough and are not directed through the center of mass/resistance, they create translation and rotational movement. "The similarities between engineering and orthodontics really sparked my interest early in dental school, so I gravitated in that direction. And, thankfully, I was fortunate enough to be accepted into a residency."
Buzzatto graduated from the University of Pittsburgh's School of Dental Medicine, and completed his orthodontic residency through the university's School of Dental Medicine's Department of Orthodontics. And he did not travel far when he decided to put out his shingle. Today, Buzzatto has two practices in the Pittsburgh area—one in Bridgeville, Pa, and the other in Allison Park, Pa. He shares the latter with his wife, Jane A. Soxman, DDS, a pediatric dentist and nationwide lecturer.
Practice Makes Fun
Having practiced for 31 years, Buzzatto admits he's found a couple areas of expertise within his field. "I believe my engineering background allows me a better-than-average insight into the mechanics of tooth movement," he explains. "Many times when a tooth is not moving as it should, I fall back on some of my engineering training to figure out what to do."
One of Buzzatto's less technical skills is his ability to produce a smile—with or without orthodontic treatment. "I'm still a kid at heart," he says. "So, I seem to resonate with the young patients. It's always been easy for me to make them laugh while in the office. And that's important for these patients."
According to Buzzatto, roughly 85% of his patients are adolescents. And, as he explains, he enjoys helping to make a positive and lasting change in the lives of young people. "Being around all those kids really keeps a person young," he adds. "It's also helped to keep me enthusiastic about what I do every day."
Buzzatto credits much of his success as an orthodontist to his unique education and jovial personality. However, he's also quick to give credit to those who have helped him during his 31-year journey in orthodontics.
According to Buzzatto, Robert T. Morrison, DDS, MS, from Hutchinson, Kan, and S. Edwin Noffel, DDS, MS, from Cape Girardeau, Mo, were incredibly influential as he began his work with the AAO on the Council on Governmental Affairs early in his career, and he considers them both to be mentors today. "They both welcomed me with open arms, sharing their passion for governmental affairs and orthodontics," he says. "This passion for our specialty continued for them well past the age when most others would have ceased practicing. To me, those men are heroes in the profession," he adds. "They both demonstrated to me passion and a never-ending enthusiasm for orthodontics."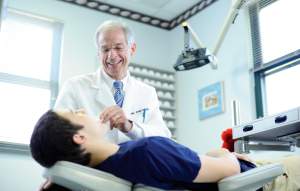 Buzzatto majored in civil engineering as an undergraduate, and has found that education "priceless" in his orthodontic career.
Enthusiasm is a recurring theme for Buzzatto. Whether taking part in his daily exercise routine or joining others at a local platform (paddle) tennis league, of which he's been a member for more than 20 years, Buzzatto's ambition and discipline are unwavering. "I like things to be consistent in my life," he explains. "And in turn, I like to be consistent."
For Buzzatto, consistency means many things. "It has always played an important role in my practice," he notes. "With regard to communication, I make it a point to speak with the parent at each appointment and inform them what procedure took place. And I'll also let them know if any type of discomfort may be expected. This is important to the patient and parent, and they rely on my staff and me to be consistent with our communications.
Giving Back
Due to the caliber of mentoring Buzzatto received early in his career, he feels an obligation to share his own enthusiasm with other orthodontists. Currently, he is on the medical staffs of both Allegheny General Hospital and Children's Hospital of Pittsburgh. He teaches cephalometrics and the team approach to orthognathic surgery to the oral surgery residents at Allegheny General Hospital. "The general practice residents are exposed to identifying malocclusions and the appropriate timing of treatment with an emphasis on interdisciplinary care," he notes.
To help promote his enthusiasm for the profession, Buzzatto is also a member of the Dental Society of Western Pennsylvania, the Pennsylvania Dental Association, and the ADA. He is a diplomate of the ABO as well as a member of the College of Diplomates of the ABO.
Buzzatto also is a member and past president of the Great Lakes Association of Orthodontists, the Pennsylvania Association of Orthodontists, and the Western Pennsylvania Society of Orthodontists. All of his association with associations culminated in May of 2011, when he was elected President-elect of the AAO. His term officially begins in May 2012, and he will host the association's 113th Annual Session in Philadelphia in May of 2013.
So it's no surprise that, in addition to managing two practices, Buzzatto has traveled countless miles to attend numerous conferences and speak with hundreds of fellow orthodontists throughout the country. His motivation for such efforts is quite humble. "My best friends are orthodontists, and I met most of them while serving on different boards and committees, of the AAO, GLAO, and PAO," he explains. "My motivation has always been to be with my friends."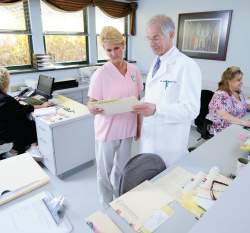 After 31 years of practice and service, Buzzatto says, "I'm still a kid at heart."
A Full Agenda
As president of the AAO, Buzzatto will spend the next year helping to carry out the mandates passed by the organization's House of Delegates. As he explains, the AAO has four critical issues that will be the major focus during his tenure, including educating the public on the importance of the 2 to 3 years of specialty education that differentiates orthodontists from general dentists. Buzzatto and the AAO board also will tackle difficult issues such as recent graduates' amount of student debt and its ramifications on their practice opportunities. In addition, he will advocate in Washington, DC, in an effort to protect the interests of orthodontists as health care providers and small business owners.
According to Buzzatto, the association currently is lobbying to remove the caps placed on flexible spending accounts, as well as opposing the medical device tax being proposed on medical and dental material set to begin in 2013. "It's going to be a 2.3% tax imposed on the equipment, bands, brackets, and wires that we purchase," Buzzatto explains. "These are the types of materials we need every day to run a successful practice. The increase in cost will be passed on to patients or absorbed into our overhead, which could be damaging for many individuals and their practices."
In addition to his government outreach, Buzzatto says, "We also are dedicated to continuing to provide our members with the best support materials to run a successful practice, as well as continuing to develop relationships with general dentists and other health care professionals," Buzzatto adds. "As president, the board and I will follow the directions of the House of Delegates. But, I'm sure some of my personality will be stamped on these issues, as these are all topics that I feel strongly about."
Buzzatto has been a member of the AAO since his days as a resident. As president, he eagerly puts out the call for others to give back to the profession—either by way of the AAO, or on a regional or local basis.
In the early years of his practice, during the time when he served on the local boards, particularly the Pennsylvania State Association of orthodontists, Buzzatto recalls two individuals who helped shape him as a leader in the orthodontic community. "Dr David Hamilton and Dr Ron Gross were fellow Pennsylvanians and former AAO presidents," he explains. "They inspired me early on to get active, and to give back to the profession."
According to Buzzatto, serving local, regional, or national associations offers myriad benefits. For example, the AAO offers members a number of educational opportunities and a chance to meet and learn from some of the best orthodontists practicing today. "There were more than 1,200 doctors in attendance at the AAPD-AAO Midwinter Meeting on Marco Island this past February," he notes. "It was one of the largest gatherings at a midwinter event, ever."
Members of the AAO also are privy to the organization's annual session, a trade show that is the largest of its kind in the world, where AAO members can view the latest products, equipment, and services available in the field of orthodontics.
As he travels from the trade show floor to Capitol Hill over the next 12 months, Buzzatto has reason to act in the best interest of his peers. "The AAO has been performing advocacy efforts for a number of years, and we continue to do so because the Federal government, in some ways, is making it more difficult to practice orthodontics," he explains. "Whether it's a new law or a burdensome regulation, we try to keep an eye out and protect the best interest of orthodontists."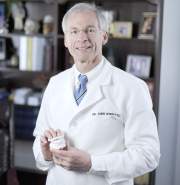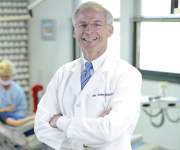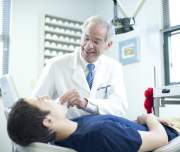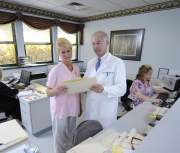 Back to the Basics
There's no denying that technology has altered our society. Advances made in the last decade have benefited our personal and professional lives in countless ways: tasks can be completed more efficiently, and information can be accessed instantly.
According to Buzzatto, the range of technical savvy among orthodontists varies from zero to ultrainvolved. "I'm probably in the middle," he notes. "Naturally, we have advanced scheduling programs and an informative, easy-to-navigate Web site—those are necessities. However, my practice doesn't employ a lot of 'techy' gadgets beyond that. I use technology more on the AAO board for communications than as a tool in my practice."
For Buzzatto, staying in the middle of the road has more to do with a fundamental principle than an all-out aversion. "I have very strong thoughts about the issue of technology in the practice," he says. "As technology continues to advance, it will become easier and easier for nonorthodontists to accomplish the things that used to distinguish us as specialists."
Tasks such as fitting bands, placing brackets, and bending archwires have become easier for nonorthodontists to perform thanks to the development of technology in the field. "The mechanical things we used to do by hand are now being done, in some instances, by machines," Buzzatto says. "This has blurred the lines between the orthodontic and dental professions."
Buzzatto's solution to the technology conundrum is quite simple: return to the basics. "There are certain movements that are stable, and I don't know whether a robot or a computer software system can incorporate these things into the prepackaged wire and appliance systems," he says. "I think over the next 10 to 20 years, we're going to need to return to our foundation of diagnosis and treatment-planning to align teeth within the face, instead of being mechanics who just place the braces."
In Buzzatto's opinion, technology has helped lessen orthodontists' understanding of the intricacies of tooth movement. In some instances, he has witnessed orthodontists focus more on their tools than on the proper diagnosis of tooth movement. "It's like a carpenter going into his tool box and saying, 'I have a better hammer than you do,' " he says. "I think things are getting muddled a little bit."
Although Buzzatto is skeptical of too much technology in the orthodontic practice, he does embrace several professional advances that have been made in recent years. "There have been numerous things that have made practicing orthodontics and orthodontic treatment more efficient," he explains. "For example, nickel titanium wires for leveling and aligning weren't in use when I started my residency. Self-etching primers, by eliminating the need for acid etching and the routine use of bonded brackets, have significantly changed the way we practice." He continues, "The use of self-etching primers has taken the headache out of those after-school emergencies. That's the kind of technology I can embrace." —LS
Lori Sichtermann is a contributing writer for Orthodontic Products.